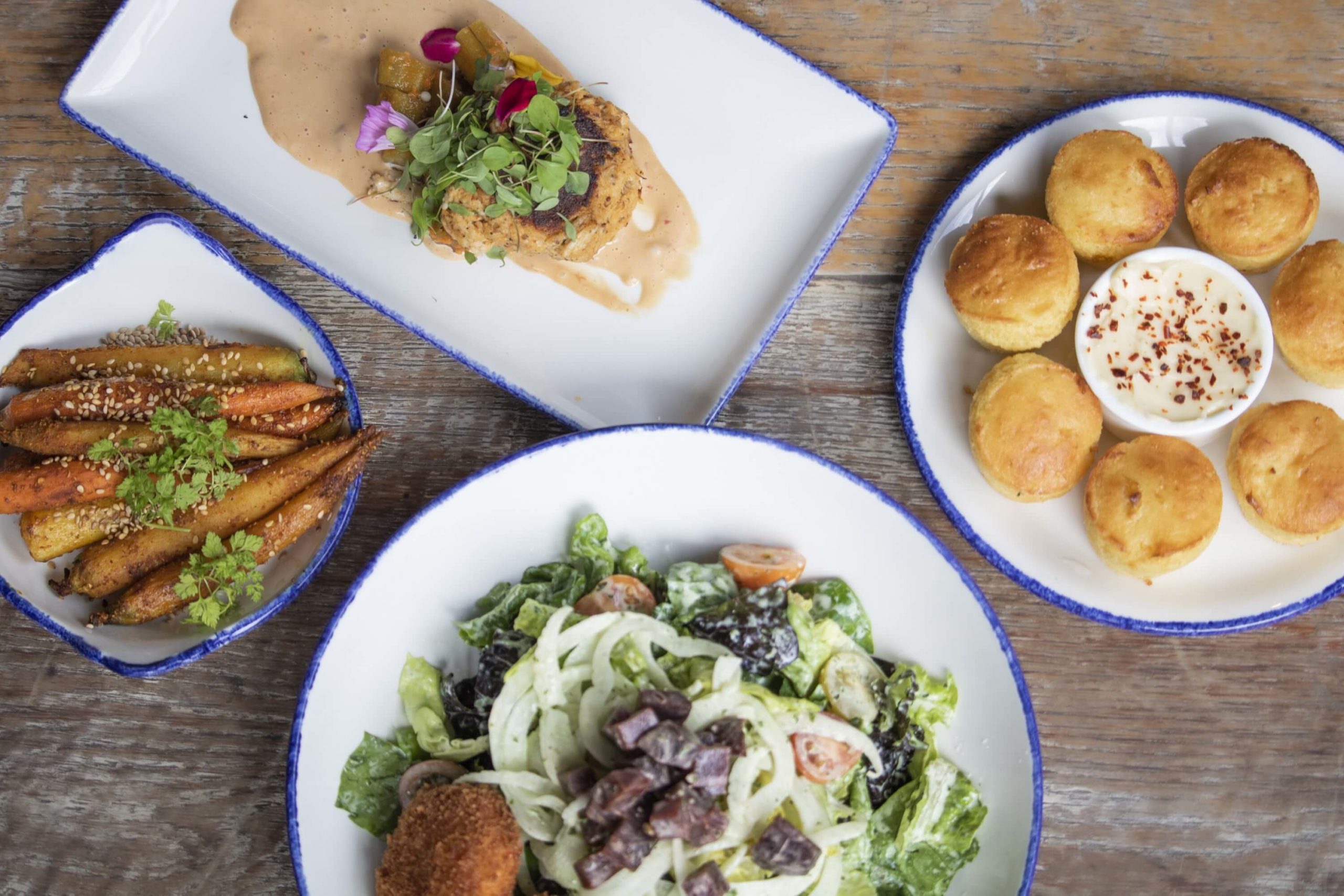 Satisfy
your palate
Choose from the diverse and authentic Lowcountry cuisines available at Palmetto Bluff's many eateries.
From our popular community restaurants to the members-only venues of the Palmetto Bluff Club and the eclectic resort options of Montage, our distinctive offerings add fabulous flavor to your day. Begin with some griddle-cooked favorites and lively conversation. Then enjoy lunch and dinner that caters to your whims. And complete your epicurean experience with a robust variety of fine wines, refreshing craft beers, and classic and creative cocktails.
Village Venues
Community Dining for Every Taste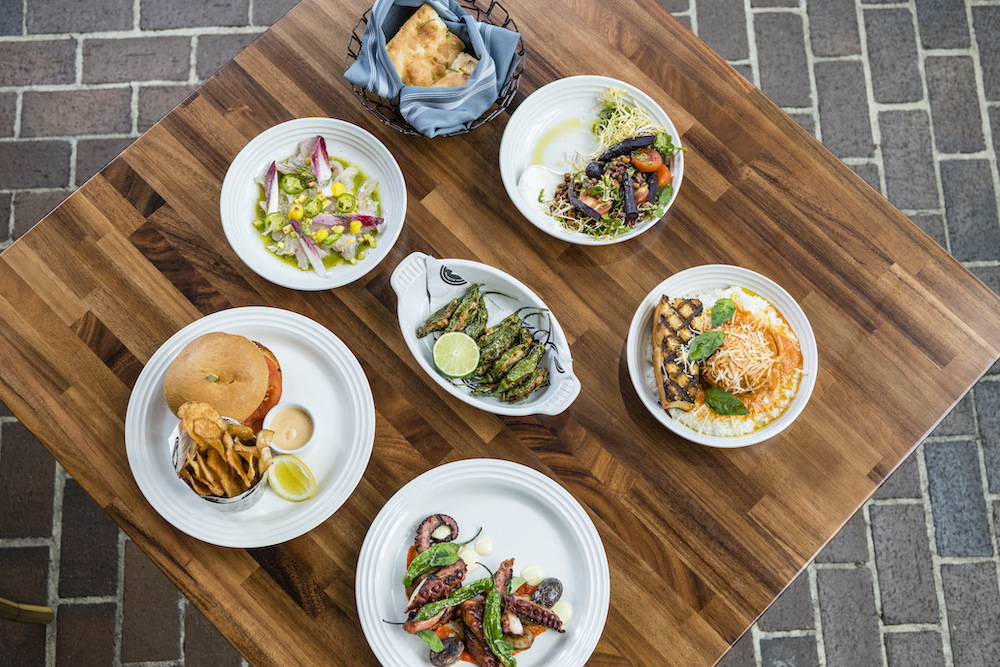 Buffalos
Buffalos, located in the heart of Wilson Village, is a favorite gathering place for all and a community staple at Palmetto Bluff. Offering Lowcountry coastal dining, Buffalos recently underwent a complete renovation and menu refresh, sure to delight residents, guests, and visitors of the Bluff. The new menu includes an oyster bar with rotating daily offerings and fresh, locally-sourced seafood and produce from the Palmetto Bluff Farm. Guests can choose from an extensive wine list or sample signature cocktails to tantalize their taste buds. Whether it's breakfast, lunch, or dinner, Buffalos provides a lively place to dine at any time of the day.  
Canteen
The Canteen is the perfect spot in Moreland Village to pick up a cup of coffee or breakfast sandwich in the morning and a homemade panini, a wrap, a salad or snacks in the afternoon. Take it to go or enjoy an afternoon on the Canteen's open-air porch with a glass of wine or a beer from a local brewery.
RT's Market
Named for the merchant Richard Thornton Wilson Sr., the father of the early 20th-century owner of Palmetto Bluff, RT's Market is your neighborhood general store, and so much more. Here, you can pick up your morning newspaper and coffee, top off your gas tank and buy milk and bread for the next day's breakfast or the ingredients for preparing a gourmet meal for a house full of guests. RT's offers a creative selection of high-quality and unique products — an extensive wine selection, gourmet items, seafood and meats, and gifts — in an atmosphere of warmth and welcome. RT's Market is open daily.
Melt
If you wander along the banks of the beautiful May River, you'll find Melt, in Wilson Village. Featuring 12 signature Southern ice cream flavors, plus shakes, sundaes, floats, candy, homemade cookies, brownies and more, this friendly and inviting sweets shop is almost impossible to resist.
Flame
Experience the true essence of flavor with FLAME, a vintage 1950s Mack Fire Truck turned pizza truck. Hand-tossed and authentically Neapolitan, our artisanal pizzas are brought to life by the mesmerizing wood-fired flames. While great food usually requires time, our pizzas cook faster without compromising on flavor, making it the ideal stop for those eagerly waiting to dine. Paired perfectly with refreshing, pulled draught beverages, our pizzas and other Italian comfort foods are a testament to the power of the FLAME. 
New Operational Hours as of Friday, July 28th 
Thursday - Monday 4pm - 9pm, located in the courtyard in front of the Montage Inn.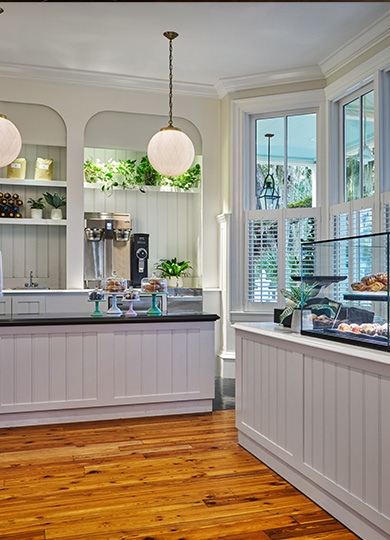 Buzz
Buzz is a celebration for mornings. An energizing place that sets the tone for the day, and stays open to re-energize guests when that first cup wears off. Fresh brewed coffee, handcrafted drinks, and house made pastries serve as a worthy start to the day. And friendly greetings paired with our energetic and relaxed ambience ensure our guests feel comfortable coming as they are.
The Private Palate
Palmetto Bluff Club Dining
Canoe Club
Enjoy 'river to table' dining at the Canoe Club with panoramic views of the May River on one side and the Palmetto Bluff inland waterway on the other. Our "coastal kitchen" menu celebrates local seafood, drawing ingredients and inspiration from the May River with staples including local shrimp, oysters and seafood prepared in a variety of ways. By partnering with area farms, we are able to source fresh vegetables, beef and poultry to create dishes that honor the bounty of the South Carolina Lowcountry.
Cole's
Featuring local farmers, fishermen, and purveyors, Cole's is a family-friendly member's meeting place where local produce is paired with innovative libations, local brews, curated wines, and friendly service. Cole's lounge features several TVs, 17 bar seats and assorted lounge seating. Enjoy a draft beer or a signature Cole's cocktail at the bar or on the screened porch overlooking the marsh
May River Grill
Nestled alongside the pristine fairways and stunning live oaks of the May River Golf Course, the May River Grill at the clubhouse is the ideal spot for casual dining or a relaxing post-round meal. Enjoy lunch indoors or check out the action on the links on the outdoor terrace. Fancy a drink? Enjoy an enticing cocktail at the bar while watching golfers finish their round on the 18th green. May River Grill serves lunch to members and Inn guests with scheduled tee times and provides drinks and refreshing cocktails until the last player finishes.
Pool Dining
The Canoe Club and Moreland pools offer seasonal poolside menus both casual and creative. Expect innovative edibles like Honey, Sesame + Soy Glazed Wings, Tofu Banh Mi, and the Pooldeck Smash Burger as well as can't-miss kids' faves like Peanut Butter + Jelly and Grilled Cheese Sandwiches.
Gourmet For Guests
Divine Dining at Montage
River House
A romantic, riverfront dining room, bespoke cocktails, and masterfully prepared meat and seafood dishes ensure that every meal here is a special event. Gastronomy takes an artful turn in colorful dishes that celebrate a love of land and water. A wine cellar featuring over 2,500 labels spotlight benchmark vintners and notable newcomers. And a team of dedicated sommeliers create winning wine pairings to enhance each undeniably creative course.
Fore & Aft
The ideal spot to begin or end your day's adventures, Fore & Aft is located along the inland waterway at the Montage Palmetto Bluff pool and offers relaxing views. Serving casual, light fare from morning until evening, Fore & Aft has a prime vantage point for viewing the avian sanctuary located just beyond the Inn's backyard, where scenes of graceful egrets and herons gliding to and fro are everyday occurrences.
Octagon
Octagon welcomes guests to a lively gathering place where tales are told, laughter lingers in the air and nothing is taken too seriously. Named for one of the few octagonal houses built in the United States, the remains of which can be found at the Bluff, Octagon features tapas-style bites, classic cocktails with a creative twist, locally crafted beers and our signature barrel-aged Artillery Punch.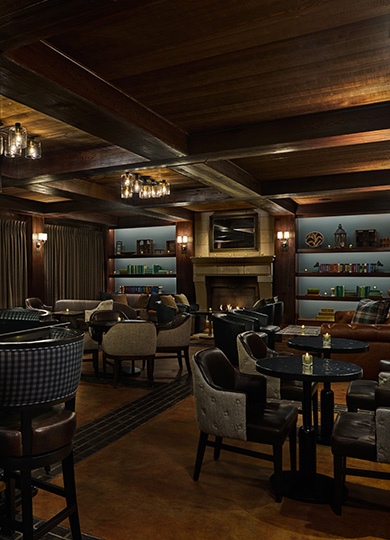 Hush
After dinner at River House, follow the soft melodies and whispered tones downstairs to Hush, Palmetto Bluff's modern interpretation of the original speakeasy. An intimate bar that pays homage to the storied past of the speakeasy and celebrates the cocktail culture at its finest. And most delicious.
curious about life at the bluff?
Sign up

for our newsletter