Follow your heart
to the Bluff
The magical splendor of Palmetto Bluff is only a short trip away.
Palmetto Bluff's lush, secluded landscapes and waterways belie its placement within bustling Bluffton, South Carolina. A charming, Lowcountry hamlet, Bluffton is recognized for its chic eateries, art galleries, special events, and everyday conveniences. And residents of the Bluff enjoy easy access to Beaufort and Hilton Head, South Carolina, as well as the distinctly urban rhythms of nearby Savannah, Georgia. The vibrant coastal city - a mere 24 miles away - promises excellence in fine dining, boutique shopping, architecture, and live entertainment.
Reaching the Bluff by plane
The Savannah/Hilton Head International Airport (SAV) is home to several major airlines offering flights (35 direct) to and from various United States cities. The airport is 24 miles from Palmetto Bluff (approximately 40 minutes by car.)
The Hilton Head Airport (HHH) employs Delta, United, and American Airlines for service to and from Atlanta (ATA), Charlotte (CLT), Newark (EWR) Dallas/Ft. Worth (DFW), Washington National (DCA), Washington Dulles (IAD), Philadelphia (PHL) and Chicago O'Hare (CHI). The airport is 22 miles from Palmetto Bluff (approximately 37 minutes by car.)
The Beaufort Executive Airport (KARW) is a General Aviation Airport situated on 110 acres of Lady's Island and boasts 34 T-Hangars and a terminal building that features a pilot lounge, kitchenette area, vending machines, restroom/showers, and a conference room. The airport is 35 miles (a 50 minute drive) from Palmetto Bluff.
Reaching the Bluff by car
Palmetto Bluff is easily accessible by car. From Atlanta, Charlotte, and Orlando the Bluff can be reached in under 4.5 hours, from Raleigh in under 5 hours, and from Jacksonville, under 2.5.
Get Customized Directions
Get Customized Directions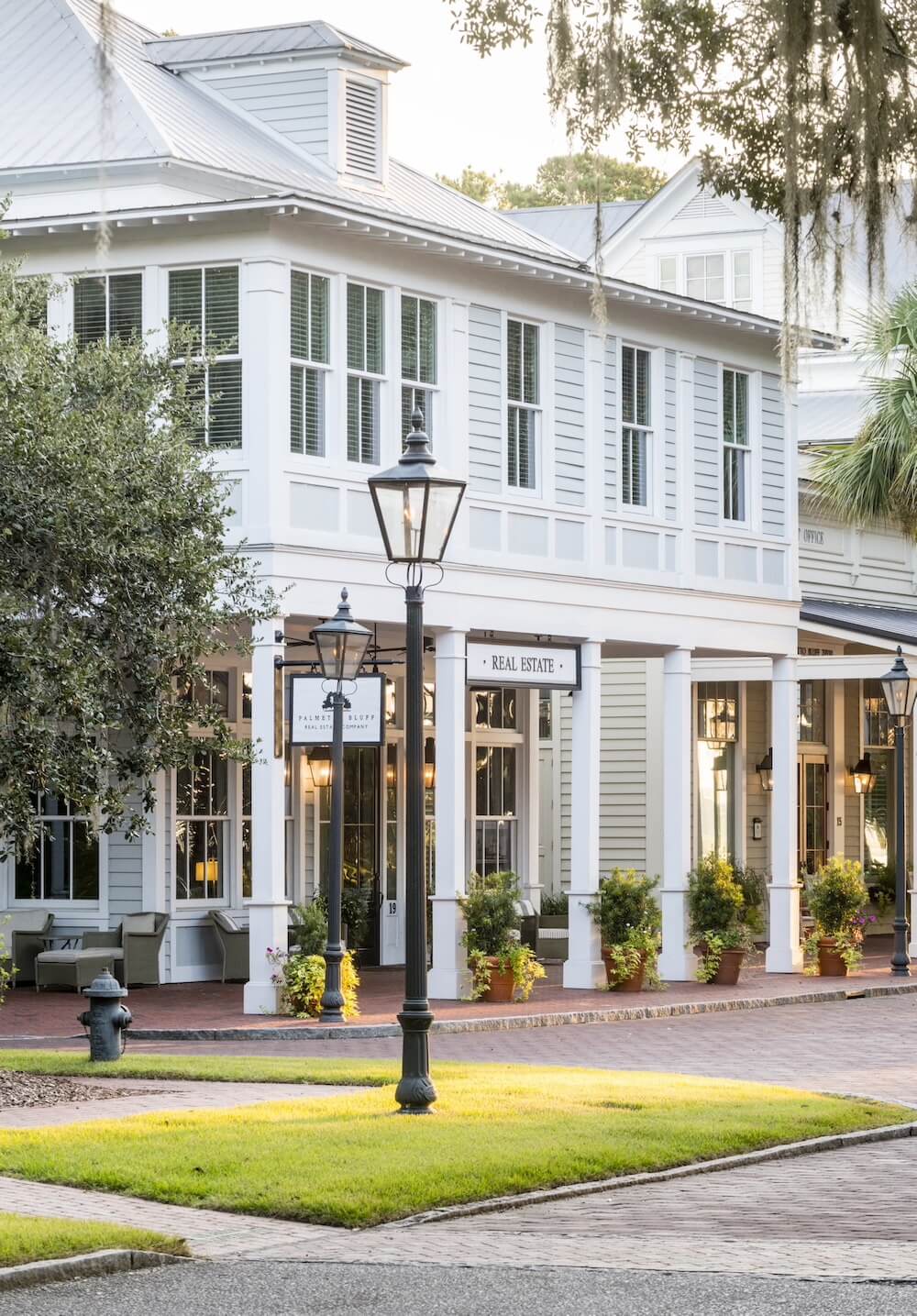 Come See Us
Palmetto Bluff Real Estate Company takes great pride in representing this magnificent community as the only on-property sales office in Palmetto Bluff. Located in the heart of Wilson Village, our experienced sales associates are here to help you whether you are buying or selling at the Bluff. We welcome your visit. Our door is always open.
curious about life at the bluff?
Sign up

for our newsletter